Franciscan House "San Antonio"
Just a few moments from the city noise, a few steps from the Old Town, there is a charming place that invites you to its modest thresholds.
The "San Antonio" Franciscan House is situated in the heart of royal Krakow. Only 500 meters away from the Main Square, it is an ideal accommodation base for people wishing to discover the most important monuments of the city. On the other hand, further trips are favored by the proximity of tram and bus stops, which belong to one of the main communication junctions in Krakow. Additionally, the distance of "San Antonio" from the Central Railway Station is only 1300 m.
By hosting you in our house, we provide not only peace and comfort, but also a homely atmosphere. We will be happy to host tourists, organized groups, individual travelers as well as families.
We have always enjoyed hosting guests, which is why we are so glad that we can invite you to San Antonio. Make yourself at home in our intimate Franciscan House and enjoy the charms of Krakow.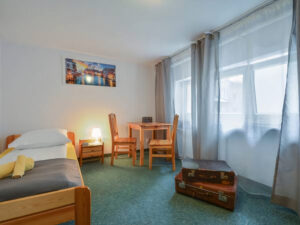 In our house there are 18 rooms at your disposal

1-, 2-, 3-, 4-bed
with private bathrooms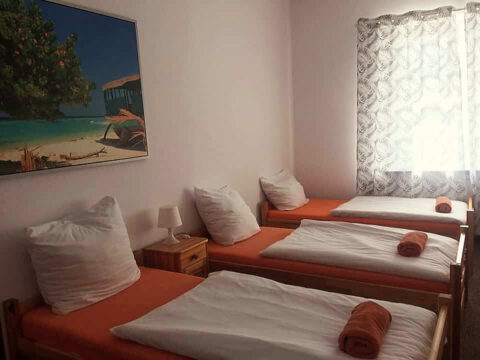 1-, 2-, 3-, 4-, 5-person rooms
with shared bathrooms in the corridor
Accommodation day:
Check in from 15:00
Check out until 12:00 (groups until 10:00)

Terrace
Terrace
i

Reception 24/7
Reception 24/7
The reception is open 24 hours a day

Luggage room
Luggage room

Free Wi-Fi
Free Wi-Fi
i

Place for a meal
Place for a meal
Kitchen, dining room, two kitchenettes (appliances and utensils)
i
Conference room for 50 people
Conference room for 50 people
Projector, sound system, blu-ray player
i

Chapel
Chapel
Stained glass windows and a cross made by Jerzy Skąpski, an outstanding painter and stained glass artist, designer of the coat of arms of Archbishop Karol Wojtyła – the basis of the papal coat of arms).
The chapel is available only to priests and organized groups under the care of a clergyman.
Before the celebration of the services, priests are required to present the actual celebration.
i

Towels and dryers
Towels and dryers
Towels and hairdryers available at the reception

Place for ironing clothes
Place for ironing clothes

Stay without TV
Stay without TV
i
Payment by card
Payment by card
We accept payment by credit cards
i
Stay with an animal
Stay with an animal
We accept small animals by prior arrangement
It is forbidden to smoke tobacco products on the premises of the House


500
meters from the center of Krakow

18
rooms

24

/7

reception
50
places in the conference room